Mother Nature is a masterful artist, having crafted countless breathtaking creatures. Yet, in the midst of her stunning creations, some animals stand out for their peculiar and often unattractive appearances. In this article, we'll delve into the intriguing world of the 10 ugliest animals alive, revealing fascinating facts that may even change your perspective on these unsightly beings.
10 – Blobfish
The Blobfish, found in the deep waters of the Atlantic, Indian, and Pacific oceans, often tops the list of the ugliest animals. Its soft, gelatinous body has an important function: it allows the fish to float effortlessly in high-pressure environments. Furthermore, the Blobfish's lack of muscles is advantageous, as it expends minimal energy while feeding on drifting particles. So, although its appearance is less than appealing, the Blobfish's unique features are crucial for its survival.
09 – Tarsier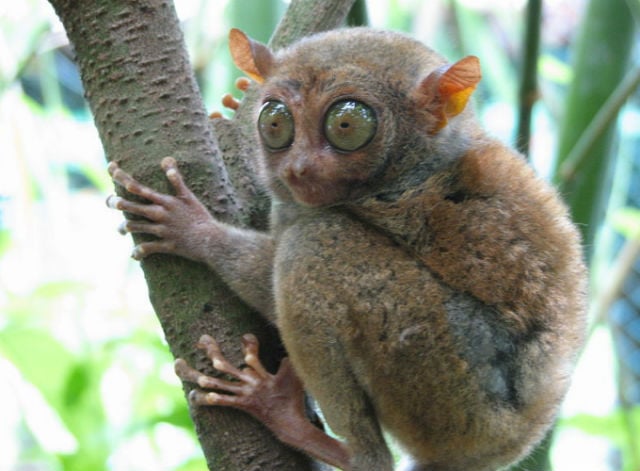 Native to Southeast Asia, the Tarsier possesses a combination of enormous eyes, elongated fingers, and a small, furry body. These tiny nocturnal primates have the largest eyes relative to body size among mammals, enabling them to see in near-total darkness. The Tarsier's fingers are also well-adapted for grasping branches and catching insects, which make up the majority of their diet. Their peculiar appearance is a testament to their evolutionary success.
08 – Angora rabbit
While some find the Angora rabbit's excessive fur endearing, others argue that its fluffiness is over the top. Originating in Turkey, these rabbits produce an impressive amount of wool that is highly valued for its softness and warmth. Angora rabbits require regular grooming to prevent their fur from becoming matted, which can lead to health problems. Beneath their woolly exterior, these rabbits possess a gentle temperament that makes them popular pets.
07 – Almiqui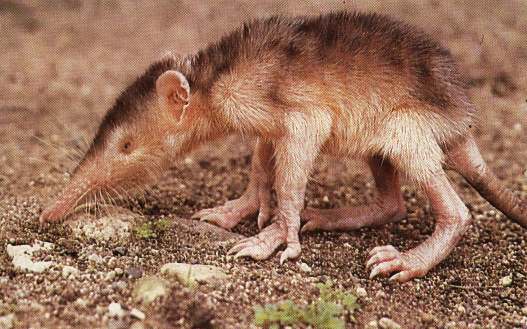 The Almiqui, a rare and elusive Cuban mammal, sports an elongated snout, disturbingly long fingers, and a rat-like tail. Remarkably, this creature has venomous saliva, which it uses to paralyze its prey, consisting mainly of insects and other invertebrates. Almiquis are also adept burrowers, creating complex tunnel systems to evade predators and escape the scorching Caribbean sun.
06 – Warthog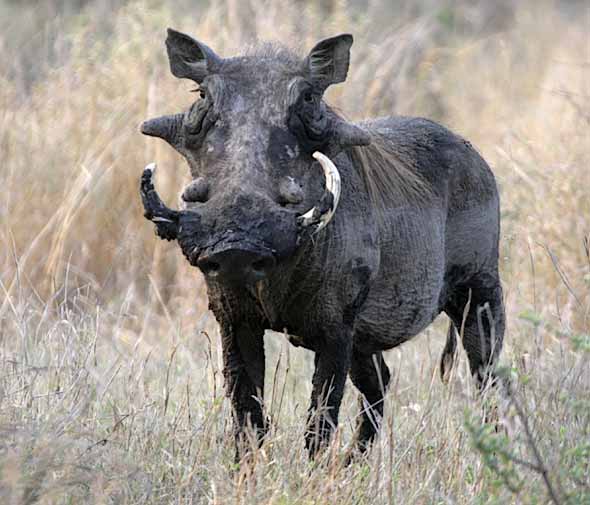 Warthogs, with their warty faces and curved tusks, won't be winning any beauty pageants. However, these African wild pigs are intelligent and resourceful. They're known to use abandoned aardvark burrows for shelter and rest, and they can run at speeds of up to 30 miles per hour when escaping predators. Warthogs are also surprisingly social creatures, living in groups called sounders and communicating through a range of vocalizations.
05 – Star Nosed Mole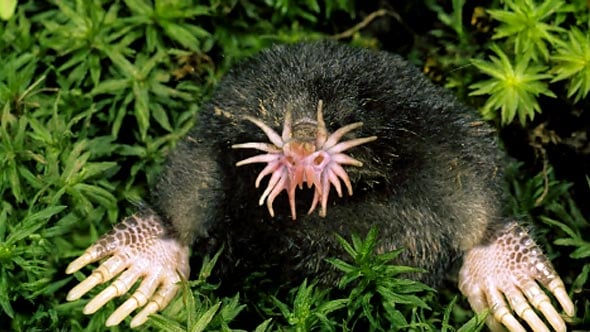 The Star-Nosed Mole is known for its bizarre, fleshy nose adorned with 22 tentacle-like appendages. While it may seem grotesque, this remarkable organ is incredibly sensitive and allows the mole to detect and catch prey with astonishing speed. In fact, the Star-Nosed Mole holds the record as the fastest eater among mammals, able to locate and consume its prey in just 225 milliseconds.
04 – Goblin Shark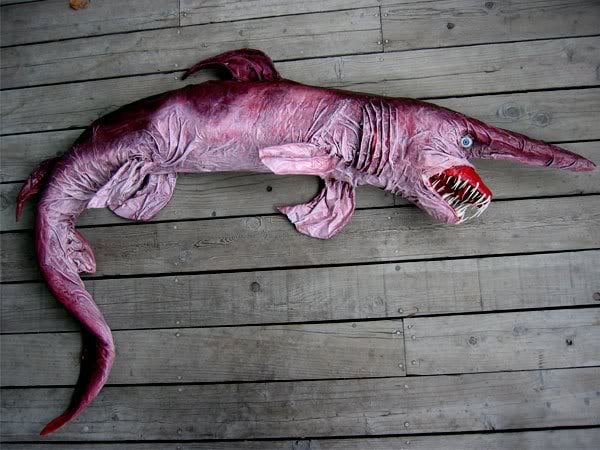 The Goblin Shark is a deep-sea nightmare come to life. Its most distinctive feature is its protruding, razor-toothed jaw that can extend forward to snatch prey. The Goblin Shark's ability to detect minute electrical signals emitted by its prey makes it an efficient hunter, even in the darkest depths of the ocean. The rare sightings and limited knowledge of this creature have only added to its unsettling reputation.
03 – Aye-Aye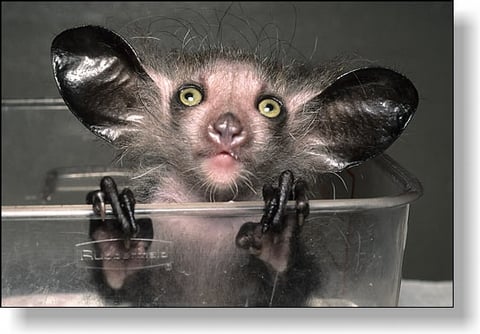 A native of Madagascar, the Aye-Aye is a peculiar lemur with large, bulging eyes and a skeletal appearance, making it a strong contender for the title of ugliest animal alive. Its elongated middle finger is used for percussive foraging, a unique hunting method in which the Aye-Aye taps on tree bark to locate insects and then extracts them with its finger. This extraordinary adaptation allows the Aye-Aye to access food sources that other animals can't, giving it an evolutionary edge.
02 – Sphynx Cat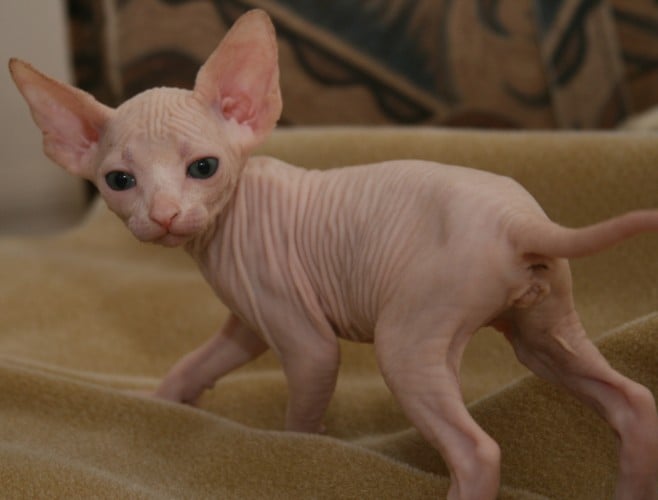 The hairless Sphynx Cat divides opinions; some find it endearing, while others consider it the ugliest animal in the world. This breed originated from a natural genetic mutation and has since become a popular, albeit unconventional, pet. Sphynx Cats are known for their friendly and affectionate nature, often seeking human companionship and warmth. Their lack of fur also makes them hypoallergenic, providing an option for those with allergies to enjoy the companionship of a feline friend.
01 – Naked Mole Rat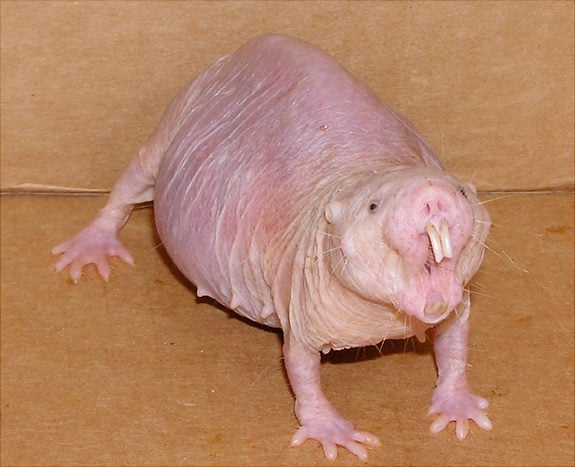 The Naked Mole Rat, with its wrinkled, hairless skin and massive, protruding teeth, is not easy on the eyes. However, these creatures possess remarkable traits, such as an impressive resistance to cancer and an exceptionally long lifespan for a rodent. Naked Mole Rats live in large, eusocial colonies led by a single breeding female, much like bees or ants. Their complex social structure and unique physical adaptations make them a subject of ongoing scientific research.
In conclusion, while the appearance of these 10 creatures may not conform to conventional beauty standards, each has its own set of adaptations that contribute to their survival and success in the natural world. Exploring the lives of these unusual and ugliest animals offers a fascinating insight into the incredible diversity and adaptability of life on Earth. So, the next time you encounter one of these ugliest animals, take a moment to appreciate the hidden charms and remarkable traits that make them unique.