Pet owners who prefer the feline rather than the canine variety of pets have their work cut out for them when it comes to the most purrfect vacation destinations for cats and their owners. Or is it humans and their feline owners? Well, regardless of who's the boss, let's just say you'll both enjoy these 10 holiday spots that are well known for being cat-friendly and offering cat-themed attractions.
10 – Poezenboot, Amsterdam, The Netherlands
Take a trip to The Netherlands and visit the floating cat boat, or boat for cats, that floats on the Herengracht canal in Amsterdam. The Poezenboot was originally a shelter for stray cats, but has since morphed into a tourist attraction.


Photo credit: pixie_bebe
The cat crew on the Poezenboot snooze on their bunk beds. It's a very homey place for cats who are social networkers and make friends quickly.


Photo credit: Nina J. G.
Note that the Poezenboot also offers solitary confinement for the anti-social cat who will scratch your eyes out if you get anywhere near him.


Photo credit: Nina J. G.
09 – Hello Kitty Theme Park, Tokyo
Tokyo is one of the most cat-friendly cities in the world, filled with cat lovers everywhere. There's a lot more for cat lovers to do in Tokyo, including Disneyland and the cat cafes you'll see further below. But the most popular cat-themed attraction in this cat-crazy city is the Hello Kitty Theme Park.


Photo credit: pinguino
Hello Kitty Theme Park, known here as Sanrio Puroland, allows visitors to take cat-themed rides, see cat musicals, and yes – another boat ride.
08 – Disneyland
We're talking both Disneyland Anaheim as well as Disneyland Tokyo. There are plenty of cartoon cats to keep you interested in both parks, but the real cartoons (figuratively speaking) are the pet and feral cats that live in the Disneyland parks.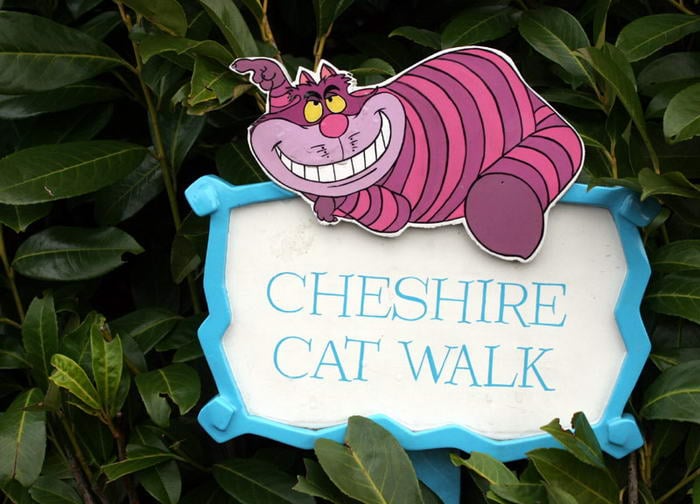 Photo credit: Cea.
07 – Torre Argentina Cat Sanctuary, Rome
Rome was not built in a day, and so the Torre Argentina Cat Sanctuary in Rome has long worked to give a safe and comfortable home for abandoned cats in the Italian capital.
Photo credit: [email protected]
Their hard work has been rewarded handsomely, because the Torre Argentina Cat Sanctuary is now a well-known tourist attraction. You can even sign up to be a volunteer and feed the hundreds of cats and clean up their cushy pads.
06 – Birmingham, UK
You'll need to time your visit to Birmingham to coincide with the Supreme Cat Show. If you're there in time, your own cats will go green with envy or hang their heads in shame, because the cats you'll get to see at the show are truly magnificent creatures.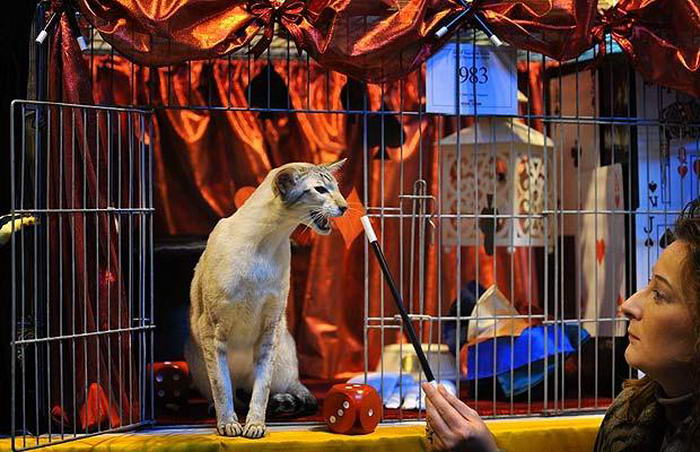 Photo credit: Geoff Pugh
05 – Kuching Cat Museum, Malaysia
Kuching is a place in Sarawak, Malaysia. Kuching means "cat" in Malay, so when you say Kuching Cat Museum, you're actually saying Cat Cat Museum. They love cats so much, they named it twice, you think?


Photo credit: Rolling Okie
The museum is up on a hill, with a lovely view outside and some great artifacts for cat lovers inside, including a 1000-year old mummy of an Egyptian cat.
04 – Moscow Cats Theatre
One wouldn't associate cold and frigid Moscow with cool cats, but it's true if you manage to catch a show at the Moscow Cats Theatre.


Photo credit: woofiegrrl
Again, these performing cats pulling off amazing tricks and acrobatic feats will put your own pets to shame, and make you want to take back with you a dozen or so of the 100+ cats they have.
03 – Key West, Florida
Key West is perhaps the best U.S. destination for cat lovers. Apart from the fact that it's a lovely place for a beach holiday, you might also want to pencil in some time to visit Ernest Hemingway's home and museum. The place is full of special polydactyl (six-toed) cats who are descendants of Hemingway's Maine Coon named Snowball.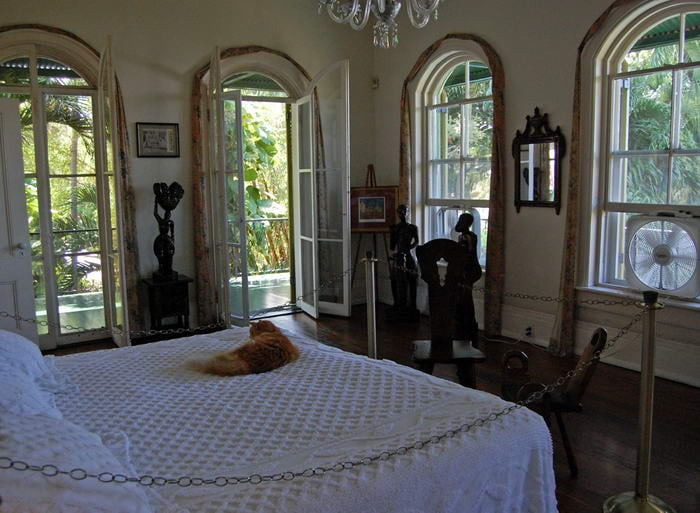 Photo credit: James Willamor
If you happen to be in Key West, you might also want to spend the evening watching Dominique LeFort lead his gang of performing cats at the Sunset Celebration at Mallory Square Dock.
02 – Festival of the Cats, Ypres, Belgium
What's cat vacation without a giant Garfield looking to eat all the lasagna in the world? If you want to see this, you need t be in Ypres, Belgium for the Festival of the Cats.


Photo credit: RDVRS
The floats and the parade and festivities with toy cats being thrown into the crowd are fun enough, but the festival takes place only once in three years.
01 – Cat Cafes, Tokyo
As noted above, Tokyo is the cat's meow when it comes to life and fun with and for cats. You can go to Disneyland and The Hello Kitty Theme Park, but as far as your furry feline friends are concerned, the only catnip they want in Tokyo is a cat café.


Photo credit: MsSaraKelly


Photo credit: Ari Helminen
You can hang out at these cat cafes, nursing a beverage and fraternizing with the resident cats who may sometimes deign to respond if they like you or get bored of snoozing and hanging around in their favorite perches.