As we head closer to Christmas, then most people around the world begin to get more and more excited. Even if you are not a Christian, this annual celebration is fun to enjoy and brings a heartwarming feel to any city or town. Once the snow begins to fall and Santa starts to get ready to call on Xmas Eve, then the magic is really in full swing. Lots of people love that special Xmas feeling and enjoy travelling to places which deliver it in spades. If you are thinking of topping up your Xmas spirit with a fun break then picking the right location is key.
Some places you could visit around the world really embody all that Christmas is about and have that certain something which will make you feel awesome. Here are the ten most fabulous places to visit in Winter for that magical Christmas feeling.
10 – Bruges, Belgium
The real secret which Bruges has is that it looks like a fairytale town from a children's story! This helps it to capture that nostalgic feel which is what Xmas is all about. It will feel like you have walked into a Christmas card when you touch down in this lovely Belgium city. The top attraction here is the fantastic Xmas market which is held every year from 24th November to 2nd January. This is a popular event which sees many stalls selling tasty food to try and beautiful gifts to buy. Aside from this, Bruges has charming cobbled streets to wander around and awesome chocolate to try out.
09 – Strasbourg, France
Another top European spot for any Xmas style break is Strasbourg. This also has a Christmas market to wander around – the one here has been going since 1570! This tells you all you need to know about the tradition and heritage in this part of the world. Full of pretty architecture and cute shops, this French fancy also has a food market to indulge in. Many people who visit also like the 'Little France' district which is fully of history and friendly locals. With superb hotels to stay in and a thriving café scene, this is a great place to wrap up and enjoy a hot chocolate in.
08 – New York City, USA
NYC is a top, top Xmas destination – not only for the real festive feel on show here but also how much there is to see and do. From ice-skating on the famous rink at the Rockefeller Center to the Bergdorf Goodman display on Fifth Avenue, you will never be bored here. Dyker Heights is also worth a visit in Brooklyn to check out the stunning Christmas light displays there. Many visiting the Big Apple also head to Rolf's for their annual German xmas extravaganza too. With some of the best shopping in the world to pick up gifts with and Central Park to take a romantic stroll in, this is a classic festive spot.
07 – Nuremburg, Germany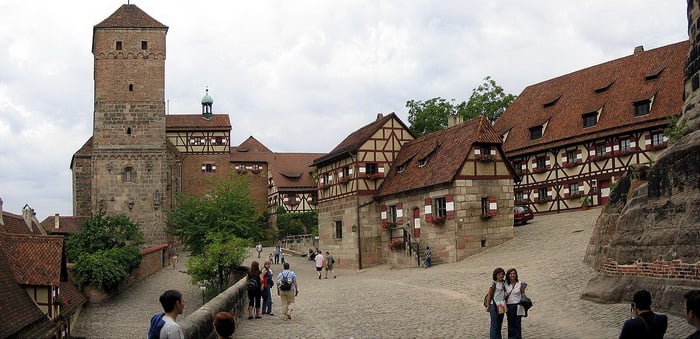 Europe is a real paradise for anyone looking to dive into Xmas and get some extra festive cheer. There is something about the decorations and markets here that really gets you into the right mood. Maybe it is the rich Gothic architecture to marvel at or surrounding forests – both ideal for that Christmas atmosphere. Once more, the Xmas market here is especially good. With mulled wine, stollen and bratwurst sausage, you will love finding out all it has to offer. Aside from this, Nuremburg is a lovely city to spend time in. With many shops, cafes and restaurants, you will find this one of the best places in Europe to get away too over Winter.
06 – Lapland, Finland
When you think about Christmas, you think of lush snow, freezing ice, roaring fires and reindeers. At Lapland, you get all this and more! A visit to this part of Finland also allows you to visit the grotto of Sant Nicholas himself. As such, this is the ideal family destination too for a Xmas themed jaunt. As well as seeing reindeer here, you can also feed them which is a fabulous experience. If you want to do it all in true luxury then the 4 star Ounasvaara Chalets are the best choice with their authentic log cabin look. After a day out enjoying the snow and the stunning landscape, you will adore relaxing in front of a real fire here.
05 – Copenhagen, Denmark
The Scandi trend in interior design is well-known as is the idea behind it that being cosy is better for you. This notion actually came from Denmark first and going to Copenhagen in Winter shows why. While here, you must go the wonderful Tivoli Gardens which are made for this time of year with their twinkling lights. There is also a famous market here with many gifts, food and drink items to buy. Copenhagen also has a lively nightlife scene so you can head out into the Winter night and truly make the most of the festive feel there. With welcoming locals and a buzzy atmosphere, this is a great place to check out.
04 – London, England
Next to NYC , London in England is perhaps the premier Xmas destination on the planet. Visitors here can look forward to seeing some iconic sights and really getting that festive feel. The shopping here is awesome with top stores like Harrods and Hamleys pulling out all the stops over Christmas. Covent Garden is also worth checking out as is Piccadilly Circus – the list of attractions to take in here is endless. If you want to go a little more overboard on the Xmas feel, Roof East in Stratford has a ski lodge feel and some warming Winter drinks to try out. If romance is more on the agenda, why not try out a trip on the Millennium Wheel?
03 – Colmar, France
This is such a picturesque part of the world for a Xmas break that it has to be included. When here you will feel very festive and love the magical vibe it has. The great thing about Colmar is that it does not get too crowded so is ideal if you want to avoid the crowds. The centre of Colmar does not allow cars so you are free to wander around and take it all in at your leisure. There are many superb sights to see here from museums to churches and cute shops. When night falls, there are some fabulous restaurants to dine in and a late-night walk under the stars is very festive.
02 – St Petersburg, Russia
If you fancy getting away after the Western Xmas on 25th December, why not visit St Petersburg for more festive fun? In Russia, Xmas is actually celebrated in early January so a visit here around then means you get more Xmas bang for your buck. It is all about the weather and architecture here. The snowy streets scream Xmas while the beautiful buildings and palaces are straight from a Xmas story. For an extra magical feeling, why not go for a troika ride through Pavlosk Park?
01 – Greenland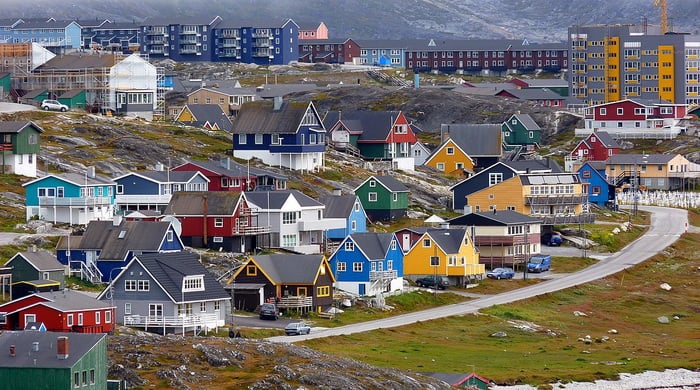 Of course, the top of our list has to be where Santa is thought to call home! You just cannot get much more Xmassy than that. Greenland is actually an island to the North of places like Iceland, the UK and Scandinavia. Although Winter is very cold and snowy here, this only adds to the perfect festive feel on offer. Just remember to bring lots of warm clothes! This truly is a winter wonderland with crisp snow on every city, village and town to enjoy. Greenland is also home to cute, colourful homes which look awesome poking out the Winter landscape. With a thriving dining scene in the larger places which serves great local food and top accommodation, this is a great place to visit. More active holidaymakers will also love being able to ski, walk or ride snowmobiles around the frozen countryside. Of course, a visit to see Santa himself is a must before you leave.
As you can see, there are some truly magical places you can head to over Winter and get some festive cheer. All of the locations we have looked at will certainly put you right in the Xmas spirit and help you enjoy the season much more. With plenty of shopping too, they will mean you get your presents sorted out too!