One of the most popular article in TheMost10 is 10 Most Inappropriate T-Shirts To Get Arrested In . This was about mug shot photos of non famous people who got arrested in funny t-shirts. Here is another mug shot photos list more interesting than the older one. This time our guest ''criminals'' are legendary names!. Most of us see them as role models and mentors including me. That's why these mug shots are more interesting. Check out 10 Most Legendary Celebrities With Mug Shot Photos list below and if you know any other legendary name mug shot photo, please share with us in comments section.
10 – Kurt Cobain – 1986
Kurt Cobain was arrested by Aberdeen, Washington police in May 1986 and charged with trespassing while intoxicated. The misdemeanor bust was not the Nirvana founder's first brush with the law. The musician had been arrested in Aberdeen a year earlier on a vandalism count.
09 – Ozzy Osbourne – 1984
John Osbourne (aka Ozzy Osbourne) was arrested by Memphis cops in May 1984 and charged with public intoxication. According to the police report, Ozzy was "staggering drunk" when nabbed on raucous Beale Street.
08 – Bill Gates – 1977
Microsoft boss Bill Gates was photographed by the Albuquerque, New Mexico police in 1977 after a traffic violation (details of which have been lost over time).
07 – David Bowie – 1976
Music legend David Bowie was arrested in upstate New York in March 1976 on a felony pot possession charge. The Thin White Duke, 29 at the time, was nabbed along with Iggy Pop and two other codefendants at a Rochester hotel following a concert. Bowie was held in the Monroe County jail for a few hours before being released. The above Rochester Police Department mug shot was taken three days after Bowie's arrest, when the performer appeared at City Court for arraignment.
06 – Larry King -1971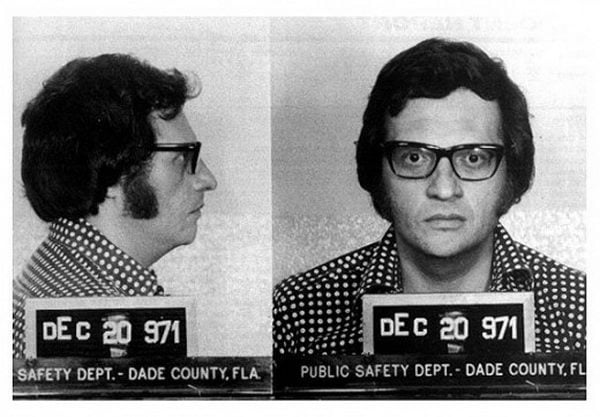 CNN personality Larry King was arrested in December 1971 in Miami, Florida and charged with grand larceny. King, 38 at the time, was unable to pay back money he owed a financier he was doing some work for. While a judge threw out the larceny charge because the statute of limitations had run out, King pled no contest to one count of passing bad checks.
05 – Jane Fonda – 1970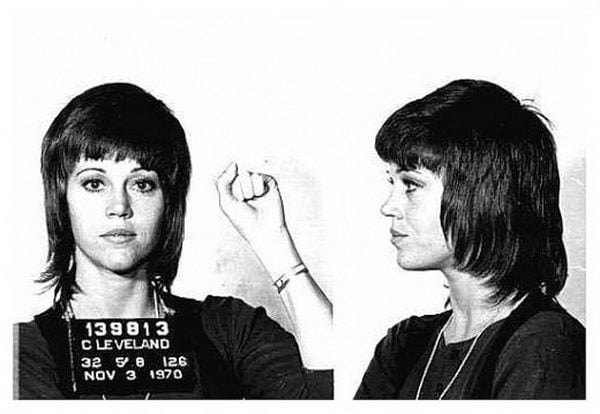 Jane Fonda was arrested in November 1970 in Cleveland after she allegedly kicked a local cop. The actress/activist, then 32, scuffled with the policeman after being stopped at the airport by U.S. Customs agents for having a large quantity of pills in her possession. Fonda posed for the above mug shot as she was being processed for assaulting the officer (that charge was later dismissed). She was booked a day earlier on federal drug smuggling charges, which were also later thrown out.
04 – Janis Joplin – 1969
Janis Joplin was arrested in November 1969 in Florida and charged with disorderly conduct after yelling obscenities at police officers during a Tampa concert. Charges were later dropped after it was ruled that the singer's actions were an exercise of free speech.
03 – Jimi Hendrix – 1969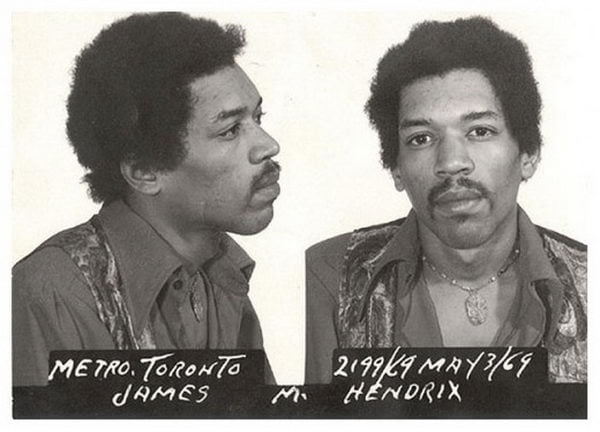 Jimi Hendrix was arrested at Toronto International Airport airport in May 1969 after customs inspectors found heroin and hashish in his luggage. Hendrix, who claimed the drugs were slipped into his bag by a fan without his knowledge, was later acquitted of the charges.
02 – Johnny Cash – 1965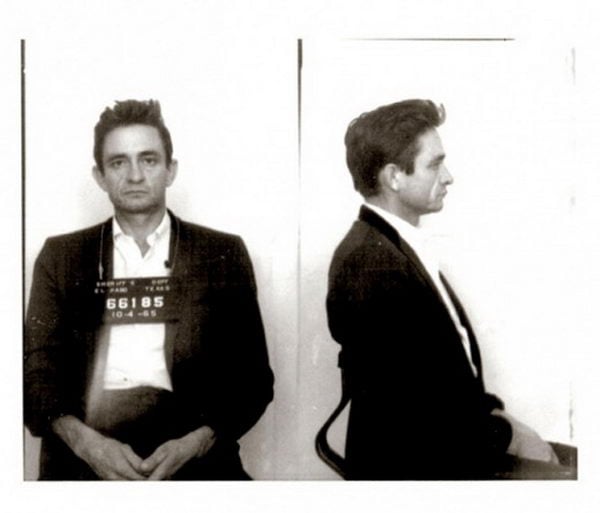 Johnny Cash was arrested in October 1965 when U.S. Customs agents found hundreds of pep pills and tranquilizers in his luggage. The Man in Black–who was returning by plane from a trip to Juarez, Mexico–spent a night in the El Paso jail, and later pleaded guilty to a misdemeanor count. Cash paid a $1000 fine and received a 30-day suspended sentence.
01 – Frank Sinatra – 1938
Frank Sinatra was arrested by the Bergen County, New Jersey sheriff in 1938 and charged with carrying on with a married woman (yes, you could get popped for that back then). The charge was later changed to adultery, and eventually dismissed.
Source: thesmokinggun.com