One of the main ingredients for a successful film is the villain it contains. While the hero or heroine may get all the limelight it's very often the evil maniac they thwart who steals the show. Usually they have the best costume, the best lines and the best time so it's easy to see why they are often the ones that linger in the audience's memory.
Depending on exactly how nasty they are too, sometimes it's the super-villain we can be secretly rooting for! Here's ten of the most crazed megalomaniacs ever to grace the silver screen:
10 – Don Logan

From the Jonathan Glazer directed film 'Sexy Beast' released in 2000, we have crime boss Don Logan. This guy is a villain in the most psychopathic sense of the word and stops at nothing to get what he wants. Superbly played by Sir Ben Kingsley, Don Logan visits Ray Winston's character in the film hell-bent on enlisting him on a bank robbery he's planning.
Completely sociopathic, Logan is a terrible mix of swagger and violence although he does ultimately come to a rather sticky end. Interestingly, Kingsley based the character of Don Logan on his own grandmother who he noted was an extremely unpleasant women!
09 – Gordon Gekko

This inclusion might surprise some people as Gekko was no mass murder or arch-criminal intent on world domination. He merits his place here though as he is genuinely evil and villainous with a black heart and no soul whatsoever. Brilliantly played by Michael Douglas in Wall Street, the character has little time for his fellow man and will stop at nothing in his quest for money. Most remembered for his 'Greed is Good' catchphrase, he caught a moment in time during the 1980's that the public loved.
08 – Le Chiffre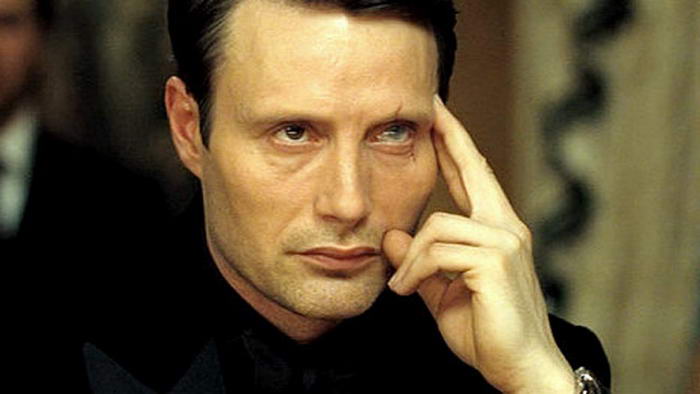 Ably played by Mads Mikkelsen, the character of Le Chiffre appears in the James Bond film, Casino Royale. A banker for the world's terrorist organisations, he is cold-blooded, ruthless and unafraid to kill to get what he wants. In the film, he is suspected of funding the 9/11 attacks in America and Bond is sent out to bring him to justice. With his eye that weeps blood and stony demeanour, Le Chiffre is a great movie villain.
07 – Hans Gruber

This sardonic, funny yet totally cold-blooded German terrorist was played in Die Hard by Alan Rickman. One of the villains you secretly quite like as he was amusing, Gruber grabbed some great lines in the movie (although not as good as Bruce Willis' ones). His steely nerve is best shown when he poses as a hostage to get John McLane's trust and then tries to shoot him! Not as terrifying or crazy as some on here, poor old Hans just wants the millions in the bank vault but ended up getting nothing.
06 – Tommy DeVito

Goodfella's, directed by Martin Scorsese, was a true classic of the movie screen. With an exciting storyline and lots of outstanding performances, it is Joe Pesci who steals the show as Tommy DeVito. With a hair-trigger temper and a penchant for extreme violence when upset, he was not someone you would want to fall foul of. Apparently based on real Mafia henchman Tommy 'Two Guns' DeSimone, his 'Do I Make You Laugh?' speech to Ray Liotta's character in the film is one of the greatest in cinema history.
05 – Blofeld

Ernst Stavro Blofeld is perhaps THE definitive villain from the James Bond films. Completely insane and power hungry, he heads up the huge criminal organisation SPECTRE. Most notably played by Donald Pleasance, this scar-faced, cat-loving monster had a heart as cold as ice. Appearing in six Bond films overall, his most memorable moment is ordering the assassination of 007 which ends up with Bond's wife being killed instead by mistake.
04 – Norman Bates

If you're talking about great movie villains surely this guy has to be mentioned. One of the most famous of all, he lit up Alfred Hitchcock's Psycho with his creepy persona. Apparently normal for a large section of the film, it's only towards the end we realise how twisted he is and just what a thing he has for his mother. The scariest bit is also the most well-known – when he kills Janet Leigh's character in the shower with a very big knife!
03 – Darth Vader

One of the most infamous and well-known movie villains ever is the dark lord, Darth Vader. Right-hand man of the evil Emperor, his quest to destroy the Rebel Alliance and obliterate the Jedi Knights is one we all loved to watch. Who can forget his first appearance striding onto the rebel ship, all in black and with that wheezing, eerie breathing. Although in the end we develop some sympathy for him due to his back story, his callous nature and ruthlessness made him a villain to be feared.
02 – The Joker

As with other villains in movie franchises, The Joker from Batman has been played by a few different actors over the years. The version that merits inclusion here though is Heath Ledger's incarnation from The Dark Knight. For the role, Ledger totally immersed himself and the result was scary, creepy and amazing. Playing The Joker as he should be, Ledger showed everyone how nasty, anarchic and psychopathic the character truly was.
01 – Hannibal Lecter

Top of the tree for movie villains is Dr Hannibal Lecter. This psychotic and fiercely intelligent killer has cropped up in a few films but it is probably 'Silence of the Lambs' we remember him most for. Descended from European royalty, Lecter hid his terrible crimes by appearing on the surface to be a cultured aristocratic figure. With a liking for eating his victims body parts or wearing their faces as a disguise though he was anything but! Brilliantly played by Sir Anthony Hopkins, this is the best movie villain ever!
There are so many scary yet amazing villains in film history that it's hard to narrow it down to just ten. The characters above though really deserve their inclusion here for the impact they made at the time and have continued too since. We now wait to see who the next generation of villains are in films coming out to take their place!